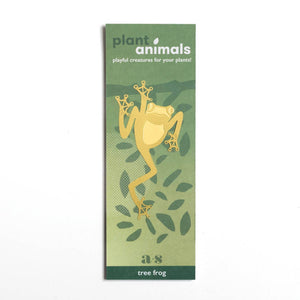 Plant Animal | Tree Frog
A great hostess gift or fun for a classroom or teacher gift!  Plant animals are fun accessories for your houseplants - this one is just so cute and playful!  Reminds me of Ranger Rick animal magazines I would be gifted as a kid.  It is in those magazines where I also learned how to do a magic eye!
Details: Etched brass set on FSC Paper and wrapped in biodegradable film.  Measures approximately 3.25" x 1.75".
Collect the whole plant gang:  • Chameleon • Frog • Monkey • Orangutan • Owl • Raccoon • Sloth
Vendor: Another Studio for Design Ltd - Established in 2009, this woman-owned business believes a creative idea combined with playful exploration will result in original and distinctive designs; our design studio isn't pinned down by niches and trends, only the desire to create something unique!  Not found on Amazon!
---