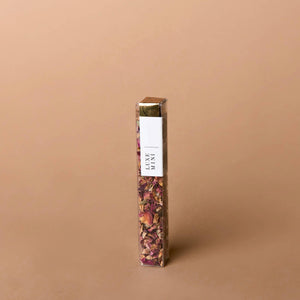 Beverages | Toppings Stick | Rose Petals
Edible botanicals for enhancement and garnish.  Enjoy garnishing or infusing with: tea, coffee, water, champagne, bubblies, sparkling sodas, lemonades, ice cubes, cookies and more!  Dimensions: 5/8" x 5/8" x 8".
Suggested Use
Garnish your favorite drink to give it an aromatic and beautiful presentation
Rim your glass. Flip glass and wet up to half an inch of the glass rim with water or simple syrup then dip in botanicals
Brew to make botanical tea. Add 1 tbsp of botanicals to the bottom of the cup, pour 8oz of boiling water on top, steep for 5 minutes, enjoy!
Attributes: Handmade | Organic | Woman-Owned | Small Batch | Made in USA | Not on Amazon
Vendor: Even after launching Teaspressa with a marketing plan that consisted of pedaling a tea cart around downtown Phoenix and handing out free samples, there was no way she could have known that she would, only short months later, land an opportunity to pitch on Shark Tank and then, shortly thereafter, open up a shop of her own, just as she had always dreamed…
---
We Also Recommend
---