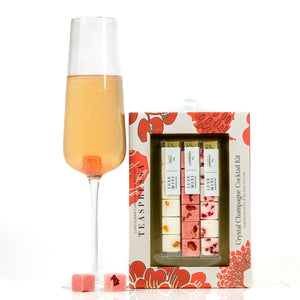 Cocktail Kit | Special Edition Champagne SHIMMER
This special edition kit features our flavors from our best seller, the Champagne Cocktail kit, WITH SPARKLES! You can now create a SPARKLY mimosa, mocktail, or artisan flavored champagne cocktail instantly with our handcrafted, naturally infused flavored sugar cubes. Made with all-natural ingredients and containing only 16 calories, enjoy craft bubblies anywhere, anytime! 
A complete set of all of our mini LUXE BUBBLIES Sugar Cubes: Strawberry, Raspberry, and Peach. Just drop one Peach cube into a glass of champagne to make an instant bellini mimosa for example!  Great to enjoy yourself or as a hostess gift!
*Please note that we do pledge to give each product 110% of our effort and to carry high standards in quality control but even with that in mind, ALL of our sugar cubes are handmade with natural ingredients. Nature can take its course and with that in mind the sugar cubes tend to have variations whether it be color, size and shapes of the natural toppings, and form.
*Note - packaging colors may vary.
Attributes: Handmade | Organic | Woman-Owned | Small Batch | Made in USA | Not on Amazon
Vendor: Even after launching Teaspressa with a marketing plan that consisted of pedaling a tea cart around downtown Phoenix and handing out free samples, there was no way she could have known that she would, only short months later, land an opportunity to pitch on Shark Tank and then, shortly thereafter, open up a shop of her own, just as she had always dreamed…
---
We Also Recommend
---