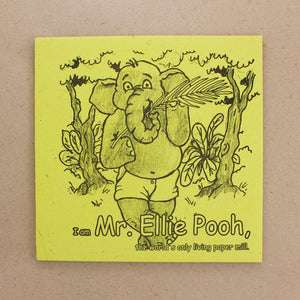 Coloring Book | Elephant Poo | Mr. Ellie Pooh | Light Green
This elephant dung paper book tells the story of Mr. Ellie Pooh and the plight of the Sri Lankan elephant.  It basically gives the "kids " version of how we can interact with nature to "Save the Elephants ".  There is hope, there may be a solution, and they are holding it in their hands......Mr. Ellie Pooh 's elephant dung paper. The perfect book for any children's library.  Perfect for the home schooler or show and tell. The kids will go wild.
All Mr. Ellie Pooh paper products are 100% recycled.  They are made up of 30% fiber from elephant dung and 70% recycled paper. No trees or toxic chemicals are used in our paper making process.  We only use all-natural vegetative binding agents, along with water-soluble salt dyes for coloring.  Mr. Ellie Pooh's papers are handmade, acid-free, and as organic as it gets!  
Details: The book is 8"x8" and printed on our colored heavy duty cardstock.
Attributes: Eco-Friendly | Handmade | Social Good | Woman-Owned | Small Batch
Vendor: Dr. Karl Wald went over to Sri Lanka 12 years ago. His job as a scientist was to shadow an elephant veterinarian, do trunk washes and test domestic elephants for tuberculosis. During that time, he learned about the raging human/elephant conflict in Sri Lanka and became friends with a fellow animal activist, and paper maker Thusitha Ranasinghe. Together, they began Mr. Ellie Pooh.
---
We Also Recommend
---