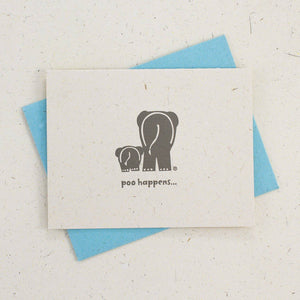 Letter Press Card Set | Elephant Poo | Poo Happens
Letter Press Card Sets are eco-friendly.  All Mr. Ellie Pooh paper products are 100% recycled.  They are made up of 30% fiber from elephant dung and 70% recycled paper. No trees or toxic chemicals are used in our paper making process.  We only use all-natural vegetative binding agents, along with water-soluble salt dyes for coloring.  Mr. Ellie Pooh's papers are handmade, acid-free, and as organic as it gets!  Have fun with the poo paper!
Details: Each set will contain 4 letter pressed poo paper cards and matching envelopes.  All cards are blank inside so can be used for any occasion.  
Attributes: Eco-Friendly | Handmade | Social Good | Woman-Owned | Small Batch
Vendor: Dr. Karl Wald went over to Sri Lanka 12 years ago. His job as a scientist was to shadow an elephant veterinarian, do trunk washes and test domestic elephants for tuberculosis. During that time, he learned about the raging human/elephant conflict in Sri Lanka and became friends with a fellow animal activist, and paper maker Thusitha Ranasinghe. Together, they began Mr. Ellie Pooh.
---
We Also Recommend
---