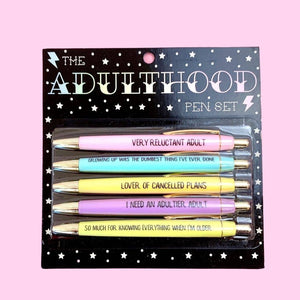 Pens | Adulthood
Set of 5 black ink ballpoint pens.    
Very Reluctant Adult
Growing Up Was The Dumbest Thing I've Ever Done
Lover Of Cancelled Plans
I Need an Adultier Adult
So Much For Knowing Everything When I'm Older
Attributes: Woman-Owned | Not on Amazon
Vendor: Fun Club is a constantly growing gift line, offering everything from party supplies to tote bags. We hope to become your one stop shop for gifts for everyone in your life (or at least the funny, cool ones).  Products designed in CA. 
---
We Also Recommend
---