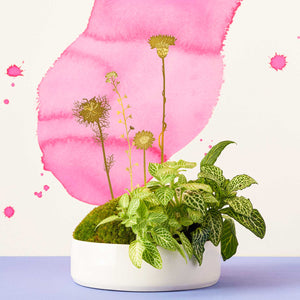 Plant Flowers | Brass Blooms
A great hostess gift, teacher's gift, or fun something for yourself!  We spend so much time indoors, we might as well make our space fun! 
Botanical ornaments for your plants! Etched brass flowers that are always in bloom. Stand them in your plant pots to create a mini indoor meadow.
Included in the set: A bright and bold Corn Marigold, a feathery delicate Nigella flower, the romantic Forget Me Not, and a wild and hardy Cornflower. Printed on recycled FSC paperboard, packed in biodegradable film.  Measures approximately - tallest one is 6", widest part is 1.5".
Vendor: Another Studio for Design Ltd - Established in 2009, this woman-owned business believes a creative idea combined with playful exploration will result in original and distinctive designs; our design studio isn't pinned down by niches and trends, only the desire to create something unique!  Not found on Amazon!
---