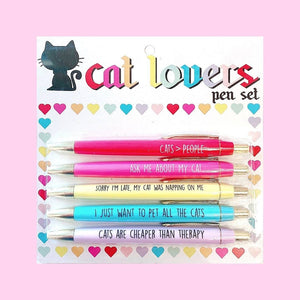 Pens | Cat Lovers Pen Set
You can't get Covid staying at home with your cat. For all cat people, present and future, this is for you.
Set of 5 black ink pens.
Cats > People
Ask me about my cat
Sorry I'm late, my cat was napping on me
I just want to pet all the cats
Cats are cheaper than therapy
Attributes: Woman-Owned | Not on Amazon
Vendor: Fun Club is a constantly growing gift line, offering everything from party supplies to tote bags. We hope to become your one stop shop for gifts for everyone in your life (or at least the funny, cool ones).  Products designed in CA. 
---
We Also Recommend
---