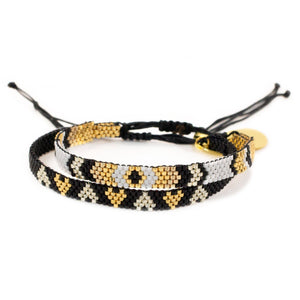 Bracelet | Chaquira Black & Gold | Set of 2
These bracelets were handmade with LOVE in Jalisco, Mexico by nine Wixáritari artisans. Each Chaquira (cha-kee-rah) Bracelet Set comes with two bracelet designs—our favorite symbol, the heart (of course), and the Wixáritari emblematic symbol, the Ojo de Dios. The Ojo de Dios is the power to see and understand things unknown. This symbol represents prosperity and is still used to call on an abundance of water for a good prosperous farming season. It is also used as a form of protection from the 'evil eye' or negative energy sourced from the unknown. Each bracelet takes about two hours to make and the colors symbolize different meanings for the Wixáritari. 
Details: Handmade with LOVE in Mexico.  Adjustable length from 6-10 inches. Every bracelet is unique & hand-made therefore a slight variation in color combination may occur.  Set of two bracelets.
Attributes: Eco-friendly | Handmade | Social Good | Woman-Owned |  Not on Amazon
Vendor: Love is Project | As seen on Shark Tank | 2021 Forbes List - Next 1000 | Featured by Facebook - Women's History Month 
Founder Chrissie Lam left her corporate fashion job in NYC in 2012 and moved to Kenya. She wanted to help create jobs for women using her background & network in design & marketing. Immediately, she was inspired by the incredible beadwork of the Masai tribe and together, they created the original red LOVE bracelet. Soon after, she took the first bracelet around the world with her and asked strangers what love meant to them.
50 countries later, she had captured hundreds of amazing Love stories. It started with one tribe and one country, and today, Love Is Project works with over 2,000 female artisans in ten countries. Each handmade bracelet is inspired by the culture and the craftsmanship of each place.  Their wages support their families, pay for school fees and allow them to invest in additional income generating projects.  They give agency to artisans they partner with to empower themselves.
Love is Empowerment. Love is passion for what you do. It is truly a labor of love. Love is proportional to your will. The stronger your will, the bigger your love, and Love Is Project is true testament to how big love can be. Spread the LOVE with Love Is Project and be a part of the Greatest Love Story Ever Told.
---
We Also Recommend
---