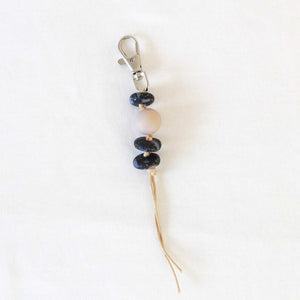 Keychain | Clay Diffusing Cool Keys
This keychain is trendy yet simple and diffuses essential oils and dignity wherever you go. Easy to clip to your belt loops or your purse, you can carry your keys in style while reaping the benefits of aromatherapy and the joy of changing the life of the woman who handcrafted it! 
Instructions: Simply add a drop of essential oil directly on the clay piece and allow the oil to absorb. Reapply as needed.
Attributes: Made in USA | Social Good | Not on Amazon | Women Owned | Eco-Friendly | Organic
Vendor: Savhera offers all USDA-certified organic essential oils that are 100% pure and therapeutic grade. Each batch of oil is independently tested to ensure there are no synthetics, adulterants, contaminants, or diluents.  Because they believe in radical transparency, they post these test results for each batch of oil on their website.  In addition to the high quality of oils, they are proud of their social mission, which is to provide sustainable and dignified employment to survivors of sex trafficking in India and the United States.
---
We Also Recommend
---