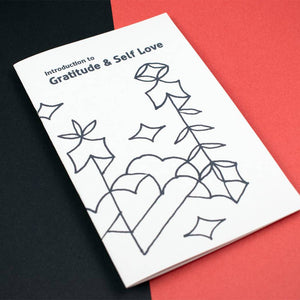 Journal | Introduction to Gratitude & Self Love
Introduction to Gratitude & Self Love is a 7-day, intensive course designed to help you appreciate yourself and your life exactly as it already is.  This introductory course is a sub-section of the longer form Monthly Manifestation Manual.
Attributes: Eco-Friendly | Small Batch | Social Good | Women-Owned | Made in the USA
Vendor: School of Life Design makes interactive guides for harnessing the creative power of thought and emotion.  Gratitude is the use of emphasis: focus on what you like and what you want more of. Mental codes (or mantras) create peaceful mental rhythm. Consciousness is the balance of doing, thinking, feeling and being. Intention is the purposeful movement of energy. Visualization generates new patterns of thought and expectation.  Design your reality instead of the other way around; only you are the creator of you.
---
We Also Recommend
---