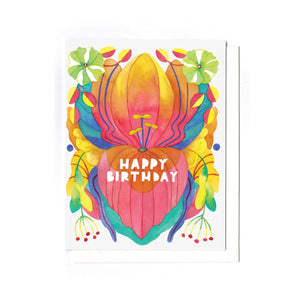 Card | Birthday | Iris Folk
Happy birthday.

Details:
Size: A2
Coordinating envelope
Biodegradable sleeve
Printed at worker-owned union printshop
100% recycled paper 
Attributes: Eco-Friendly | Shop Local Minneapolis | Woman-Owned | Small Batch | Made in USA | Not on Amazon
Vendor: Katie Blanchard paints cards for the world we want and need. As an activist and organizer, she has learned we are all stronger when we can support, encourage, and celebrate one another. Katie uses richly-pigmented handmade watercolors in her original paintings, and her cards are union-printed on recycled paper. Katie's cards cultivate and celebrate abundance, tenderness, and connection in all sorts of relationships. They are infused with the hope-in-the-dark-winter spirit of all the Midwestern places that she has called home.
---
We Also Recommend
---