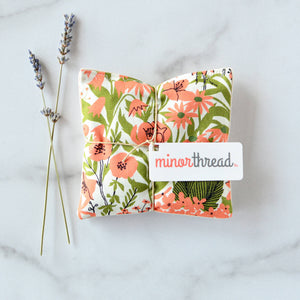 Sachets | Organic Lavender | Mazy's Peach Floral | Set of 2
Made with a gorgeous floral print in peach and green that gives us 70's wallpaper vibes - but in a good way!
Our soothing, fragrant lavender organic sachets are bundled in sets of 2, tied with hemp twine and topped with a hang tag. These sachets make a wonderful gift, year-round.
Details:
Each sachet is approximately 4 1/2"" x 4 1/2""
filled with 4 oz. (by volume) of organic lavender flowers
Backed with natural linen fabric
Attributes: Eco-Friendly | Handmade | Small Batch | Social Good | Organic | Woman Owned | Made in USA | Not on Amazon

Vendor: Minor Thread was established in 2003 in Oakland, CA by artist Charlie Wright, who was dedicated to taking recycled and vintage materials and repurposing them into awesome, useful objects. Today, Charlie hand-picks and often hand-paints beautiful, natural fabrics for her organic herbal sachets, creates organic tea blends and offers whimsical, retro-style home goods and accessories.
---
We Also Recommend
---