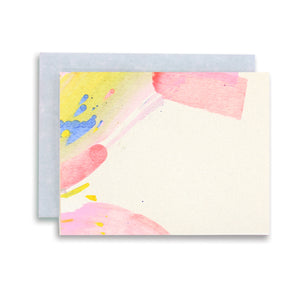 Stationery Set | Rainbow Swirl
Hand painted folded cards with envelopes. Card size: 5.5 x 4.25" flat card.  
These come packaged in a firm, modern boxed set, each card hand painted and unique.  The photo hardly does them justice.  Lovely to receive as a gift set or to send someone a work of art with your note!
Attributes: Eco-Friendly | Handmade | Small Batch | Made in USA
Vendor: Moglea is a design studio that creates modern paper and home goods, and was founded by Meg and Chad Gleason in 2012. Their artful line is created by using hand-applied production processes like paint and dye to add one-of-a-kind elements to each finished product. The production team in their Iowa-based studio thoughtfully applies layers of paint to extra thick sheets of paper before cutting them down, yielding unique compositions. Cards are dipped one at a time in custom blends of pigment and organic dyes. Each piece is finished on one of their antique presses where it is foil stamped, printed or die cut using traditional letterpress printing processes.
---
We Also Recommend
---