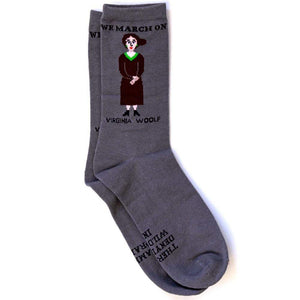 Socks | Virginia Woolf | Gray | Crew Medium
Virginia Woolf was one of the old time great British writers.  She is well known for an essay called, "A Room of One's Own" and many novels, breaking all traditional literary rules.  She was a pioneer.  Among her great works are, "Mrs. Dalloway," and "To the Light House."  
Sole: "BLAME IT OR PRAISE IT, THERE IS NO DENYING THE WILD HORSE IN US." 
Size: Medium | Women's 6.5-9
Vendor: Maggie Sterns Stitches is an art company making embroidered feminist socks. Maggie is an artist, designer and maker w ho believes in sharing the incredible stories of historical women.  
---
We Also Recommend
---