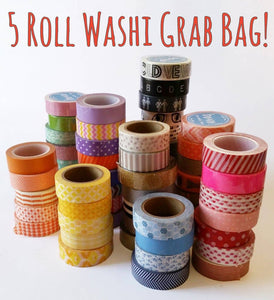 Washi Tape | 5-Roll Grab Bag
Our washi tape is made from rice paper and acrylic adhesive. It is easy to remove and is reusable. You can write on washi tape and it's acid-free so it's safe to use on your special memories in scrapbooks and more. This fun tape is able to be torn by hand and it is repositionable, so it is great for crafting and scrapbooking. A "grab bag" of 5 rolls of beve! washi tape and glitter tape! Over 100 designs could be part of your mixed bag. A great deal for party favors or gifts!!
Attributes: Social Good | Woman-Owned | Eco-Friendly | Made in USA | Not on Amazon
Vendor: beve! brings us pretty and practical items that make your day a bit brighter. They endeavor to bring an environmentally-friendly aspect to all of their products, whether they are produced locally, made using recycled material, and/or are biodegradable or reusable - they think it's important to pay attention to the impact we make on the Earth. They look forward to putting a smile on your face all the way from Virginia!
---