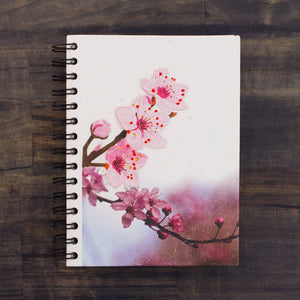 Notebook | Elephant Poo | Cherry Blossoms | Large
Students and non-students take note! These one-of-a-kind, eco-friendly, hardcover notebooks from Mr. Ellie Pooh are perfect for your writing needs. Write, sketch, and join the fight to save the elephants!
Details: Our large, unlined notebooks have approximately 50 pages and measure 7.5" x 6".
Attributes: Eco-Friendly | Handmade | Social Good | Woman-Owned | Small Batch
Vendor: Dr. Karl Wald went over to Sri Lanka 12 years ago. His job as a scientist was to shadow an elephant veterinarian, do trunk washes and test domestic elephants for tuberculosis. During that time, he learned about the raging human/elephant conflict in Sri Lanka and became friends with a fellow animal activist, and paper maker Thusitha Ranasinghe. Together, they began Mr. Ellie Pooh.
---
We Also Recommend
---