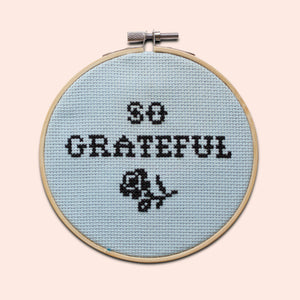 Craft | Cross Stitch Kit | So Grateful
Did you ever do little cross stitch kits as a child?  I did and I loved them!  It's so therapeutic, following a pattern and making tiny stitches.  The designer came across Pamela Koon on Instagram and asked her to design some traditional cross stitch kits for her.  Her designs are a mix of traditional Quaker cross stitch with elements of traditional tattooing. The font recalls the rich tradition of samplers, a practice in which young girls would stitch the alphabet, their name and bible verses to show both technique in decorative needlework and often cases, virtue.  These stitches are meant to take a modern approach to the history of the sampler.  These kits are suitable for beginners but they do require concentration and the following of a simple pattern.
Details: Each hoop measures 13cm diameter, the kit comes with colored fabric, black thread, needle, instructions and velvet ribbon to hang.  
Vendor: Cotton Clara is a female-owned business that provides you with ideas and tools for craft and creativity, because it's so good for the soul!  
---
We Also Recommend
---