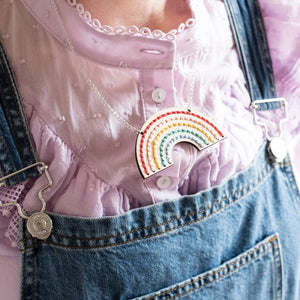 Craft | Embroidery Kit | Wooden Rainbow Necklace
There's something really comforting about wearing this symbol of hope around your neck. On a bad day, the designer has worn this necklace and it's really lifted her!  Knowing that you've stitched it yourself makes it extra special, too.  This necklace is a great beginner project, use it to practice your backstitch then graduate to one of our hoop projects that use a back stitch too.  We've already attached the rainbow to the necklace so you can just stitch away and your necklace will be ready to wear in no time. Wear this me-made necklace with pride!
Detail: This kit includes everything you need to stitch your own rainbow necklace, including a laser cut rainbow with silver plated necklace attached, colored thread, needle and instructions.  The necklace measures 7.5.cm x 3cm.  
Vendor: Cotton Clara is a female-owned business that provides you with ideas and tools for craft and creativity, because it's so good for the soul!  
---
We Also Recommend
---